This planet is worth taking care of.
There are opportunities all around us
to do better for our environment.
These are ours.
This planet is worth taking care of. There are opportunities all around us to do better for our environment. These are ours.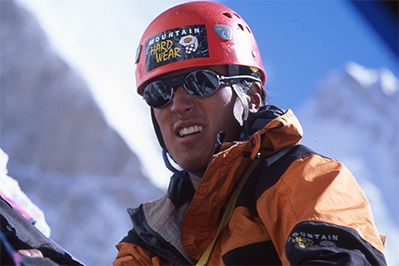 What if we saw our biggest problems as opportunities to reinvent? Could we create cleaner oceans, save fresh water, and equip athletes to engage responsibly with the environment—all at the same time?

We're always exploring new ways to do just that. Today, you'll find more gear with greater amounts of recycled content—undyed or solution-dyed fabrics—and flame-retardant free tents.

Because that's the difference between doing good and doing business as usual. And since better options were out there, we chose to take them. Better for you, better for our factory workers, better for our planet.
flame retardant
free tents
Flame-retardant chemicals are proven to break down over time and have harmful impacts on our health and environment. That's why the our entire tent collection is made FR-free. Better for you, better for our factory workers, better for the planet.

There are growing concerns about the potential health and environmental impacts of chemical flame retardants in consumer products, including tents. Flame retardants have historically been used in tents to meet a flammability standard (CPAI-84), which originated in the 1970's to address fire risk of paraffin-treated canvas event tents. In spring 2019, we made the commitment and switched to making all of our tents without flame retardants.

"The tent flammability standard that often necessitates the use of fire retardant chemicals—some of which are highly toxic compounds—is based on a decades old rule that was developed to protect against highly flammable paraffin-coated cotton circus tents. We're challenging the value of applying this outdated standard to our tents in the interest of sustainability and our consumer's health. We are eliminating their use from all future Mountain Hardwear tents." -Joe Vernachio, President
"Ditching flame retardants allows us to apply silicone on both sides, which gives the tents higher tear strength and longer-lasting water repellency,"
–Devon Lambert,
Product Line Manager
An ultralight mountaineering tent engineered for high-speed, high-altitude ascents
Regular price:

$ 1,000.00 CAD
10+ person dome, engineered to minimize wind load
Regular price:

$ 7,200.00 CAD
With long-lasting quality and your safety in mind, experts at Allied Feather & Down diligently test and clean our down using environmentally-conscious practices to ensure it's free of chemicals, irritants, and foreign elements, such as dirt and oil, and that we're reducing our impact in the process.

With quality control being paramount, Allied's down is considered the highest-caliber. A byproduct of the food industry, its feathers are sourced from global suppliers who meet stringent requirements. Experts diligently test the down for content, species, fill power, cleanliness, and more to ensure the down is free of chemicals and irritants. They even send samples to an accredited down-testing laboratory.

While 400mm+ is considered hypoallergenic, Allied down consistently measures 1000mm+, making it the cleanest and most allergen-free down available. But the best way to achieve the warmest, lightest, most durable down is to clean it properly.
All down undergoes Allied's proprietary washing process which involves multiple washes in biodegradable, environmentally-friendly detergent and recycled water.
From the washer, the down is thoroughly dried, cooled, and de-dusted. It then passes through a metal detector and is shipped in bags and containers that prevent foreign elements like dirt and oil from compromising the quality. This thoroughness and objectivity ensures that all Allied down not only meets but exceeds industry requirements.
featured allied down products
Our warmest down parka with high-lofting, packable down and increased durability
Sale price:

$ 371.98 CAD
Regular price:

$ 620.00 CAD
solution-dyed
gore-tex shells
The solution-dye process requires 89% less water, 63% fewer chemicals, and generates 60% less CO2 emissions than traditional dyeing, while creating colors that are more consistent, more colorfast, and that resist fading or washing out.

Instead of the traditional process—in which individual strands of unpigmented synthetic yarn are dyed using a large volume of water and chemicals—solution-dyeing involves mixing pigment directly into the plastic pellets. When the pellets are extruded into yarn, the output is a deep, permanently colored fiber that can be woven into fabrics without the use of water or additional dyes. It not only eliminates water pollution, it supports the longevity of the product, ensuring it will look new longer and prolong its replacement further.
"Our Life Cycle Analysis Studies indicate that a long and useful life is the single most effective factor for more sustainable outerwear. Solution dyeing directly addresses this key finding, as we anticipate that this process will produce better durability through much higher colorfastness. In addition, solution dyeing reduces a garment's environmental impact with lower water usage, lower chemical usage and smaller carbon footprint."
–Bernhard Kiehl, Gore Fabrics
Sustainability Leader
By skipping the dyeing process and leaving our equipment fabrics as is, we reduce our water impact and usage. Dyeing is a highly intensive, water-, chemical- and energy-consuming process. Removing this step in the process means we cut these resources out of the equation and keep their byproducts from going into the environment.
featured solution-dyed and un-dyed styles
Our most durable, protective shell pants for climbers and skiers with waterproof breathable technolo...
Read More
Sale price:

$ 279.98 CAD
Regular price:

$ 700.00 CAD
bluesign®- approved materials
This system guarantees that the products were manufactured with responsible use of resources and the lowest possible impact on people and the environment.

According to the strict bluesign® criteria, manufacturers and brands are required to act responsibly and sustainably with regard to people, the environment and resources. These set forth all of the relevant information and ensure consistent transparency and traceability of all processing steps down to the raw materials. The materials created within the product chain or intermediate products are assessed by BLUESIGN and bear the bluesign®-approved label.
Each textile product is the result of a comprehensive manufacturing process. Raw materials and many other components are needed for this, such as dyes or chemical auxiliary materials. The bluesign® system offers solutions for manufacturers of these components. They can have their production processes and composition of the components assessed based on the bluesign® criteria and optimize sustainability.

Components that are assessed and confirmed sustainably-produced are then designated as "bluesign® approved," meaning, from the raw material to the finished product, there are no missing links in sustainable materials and production.
We're committed to raising the standard of utility while reducing carbon and water impact by sourcing materials with high recycled content.

With durability at the forefront of our focus, we partner with industry-leading materials engineers like PrimaLoft® to prove that technical pursuits and environmental efforts go hand in hand. These materials reduce carbon emissions produced in manufacturing by up to 39% over the standard equivalent product. It also means we can cut water usage by over 50% in some cases and keep water clean throughout use as a result. From 100% postindustrial recycled fabrics to semi-recycled trims and synthetic insulation, our collection of upcycled items grows every year.
Our most recycled synthetic-insulated hoody
Sale price:

$ 179.98 CAD
Regular price:

$ 300.00 CAD
Synthetic-insulated warmth with roomy construction for shoulder season camping
Minimum price:

$ 170.00 CAD -

Maximum price:

$ 180.00 CAD
Ultraviolet Protection Factor (UPF) measures how much ultraviolet exposure a fabric allows through it. Our garments never use chemical treatments and can still achieve the highest rating obtainable.

Our research proved that chemical additives wash out, and ultimately, they don't last. As an important part of our commitment to reduce our impact on the planet, we choose high-quality, high-density materials that create a natural UPF barrier, keeping chemical additives out of your clothing, the wash, or your skin.
featured all-natural UPF styles
All-day bottom with tapered fit that transitions seamlessly
Regular price:

$ 100.00 CAD
Sun-protective hoody with high softness, range of motion, and all-around comfort
Regular price:

$ 80.00 CAD