EXPEDITION KNOW-HOW:
ascend past the unknown
Like most successful expeditions, navigating the mountain of knowledge required to embark on one of these missions takes a team of experienced guides. It's their doubtless leadership that sheds certainty and direction on a team; but often, those first steps leading up to them can feel just the opposite. For the questions that you're just not sure where to begin or who to ask, start here.
reading routes and understanding mountain terrain
TREKKING EFFICIENTLY, finding basecamp, and picking the right route requires the ability to route-find and navigate complex terrain. Here, we will lay out how to prepare yourself before stepping foot outside your door to returning to town after a climb attempt—which hopefully includes a successful summit.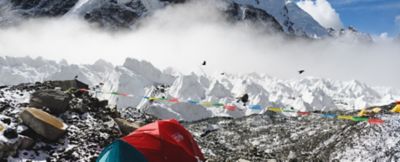 the latest expedition kit